TW Steel mostly offers watches in the size range of 45 mm to 50 mm, among the most popular timepieces are the TW Steel Canteen, TW Steel CEO, TW Steel Grandeur Diver, TW Steel Pilot, TW Steel Slime Line.
TW Steel is a Dutch watch brand that was founded in 2005 by a father-and-son team that still operates the company. The brand's philosophy - 'Big in Oversized Watches' reflects through its many collections ranging from 38mm to 48mm. In its more than fifteen years of existence, the TW Steel brand has grown to be a global phenomenon and lifestyle brand.
We know that your TW Steel watch is important to you and understand that the sentimental value more often than not outweighs the monetary value. Our expert watchmakers strive to make sure your watch can be worn for many years to come.
Not only can we take preemptive measures to keep your watch running for a long time, but we can restore watches that have seen better days. We are willing to hunt for rare parts. We have done many repairs that others have given up on. No job is too big or too small and we can do any repair on any watch. Our repairs can be as simple as a battery change, pin replacement, or band replacement, and can be as complicated as a dial refinish, a band/case polish, movement clean and overhaul and even a complete restoration.
We have a simple process for mailing your watch to us, our estimates are free and we offer free return shipping on repaired watches.
Times Ticking began in 1983 as a retail store and repair center for watches and clocks. We have expanded over the years to more retail stores and a separate repair center that accepts watches from all over the world. We have personalized customer service, which we are very proud of, and feel that this is what sets us apart. We have an extremely high customer satisfaction rate and also a high return customer rate.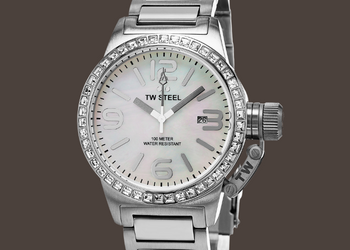 We can service any style of watch. Look over our list of brands that we can help you with.
 
Jane Murray




I found Times Ticking on the internet.  The last time I had a watch repaired locally it cost more than the watch did new.  I got it back just like new 2 weeks later and 2,000 miles away.   

HIGHLY recommended.
Times Ticking was prompt, inexpensive, and even phoned when they got my watch and told me in advance what it would cost to repair. 

Marc Takeuchi


Like a previous reviewer I can't speak to the local facility as I'm in Seattle. Doing a search for repair on my specific brand watch (TW Steel )
I came across Times Ticking lead generation site for TW Steel repair. After doing more research, reading other reviews I contacted them and Jesse 
(head tech) replied to me with instructions on sending my watches in. I mailed the watches out and they got back to me a couple days later after receiving them. One watch needed a new bezel and crystal along with battery. They were able to find and order the OEM parts and I'm happy to say I received my watches back and they look like new

! They cleaned and resealed both watches. I'll be sending them more watches in the future!
 Hank Miller
I recently had my watch repaired at Times Ticking. Nothing but great things
to say about the service, professionalism, communication and quality.  Highly recommend.
 Terri Hill
I have a TW Steel watch that quit working. I googled repair for it online and saw this company could fix it. I mailed it to them. They called me when they received it. They called in a couple days to give me an estimate for repair. The estimate was Very reasonable. They again called to let me know they had repaired it and it was shipped back to me. They are a Very responsible company and very trustworthy. I highly recommend them!

 Doug Hammer
I had several issues with my Bulova mechanical watch, including running too fast. They not only fixed it, but it is better than when I bought it new
. Amazing! And the only place I recommend for service.
 
Kent Bolin


Outstanding

in every way.  TT exceeded all of my expectations…and my old watch is working like new.
⭐⭐⭐⭐⭐ Renee Menzes
How nice to do business with someone who has good customer services skills- offers an estimate, does what they say will do and does an
excellent job
.
⭐⭐⭐⭐⭐ Paul Pearson
My four year old watch finally lost power and I could find no one locally that

would replace the battery.  I queried the company site of the watch maker 

and they referred me to Times Ticking.  I contacted them by phone and was given instructions to go to their site and fill out paperwork send the paperwork with the watch by mail to their facility in Utah.  Upon reception at their facility a representative from Times Ticking called me to discuss the problem and recommend a solution and the cost of the fix.. They immediately commenced working on the watch and within a couple of days called me back to say their work was done and they were returning it to me by insured mail. The entire transaction was easy to complete and within in a week's time had the watch back in use.  Really great people to work with with excellent service
at a very fair price.  I highly recommend Times Ticking for great service and surpassing my expectations in every regard.
⭐⭐⭐⭐⭐ Brian Rudnicki
Very satisfied
with my experience.  My favorite watch is now back running and working perfectly.  I was a little leary as we are in GA and they are not but they were very timely and easy to communicate with so it all worked out great.
⭐⭐⭐⭐⭐ Ellen Hymes
I was thrilled that they were able to repair and clean up a watch that I had inherited from my mother.  It looks great and works great.  The service was fast.  The person who called me about the watch was very friendly
and seemed grateful for my business.  I would highly recommend them to anyone and will use them again if the need arises.  So refreshing to receive such good customer service these days!
⭐⭐⭐⭐⭐ 
Peter K




I highly recommend Times Ticking for watch repair.  Jesse & crew know their stuff and even take the time to talk with you.  They communicate very friendly/professionally and most of all the prices are more than fair for such craftsmen skills!  My opinion: They are like

the American Restoration of watches

.

 

 
Copyright 2023 Times Ticking